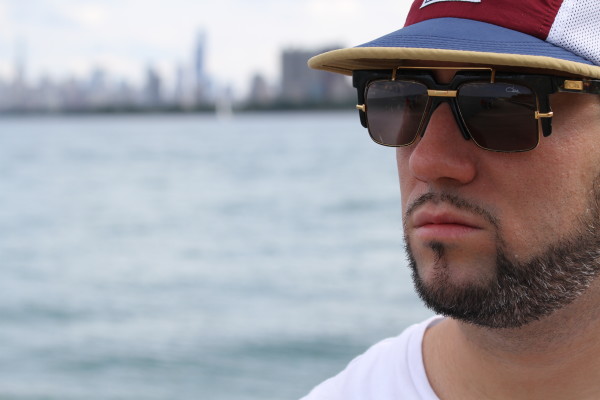 If you are unfamiliar with Queens emcee Eff Yoo then I suggest you get educated. Blessed with having an ill catalog with projects like Legend of the Gnome Sword with Golden Child, Bodega Businessman, They Came On Horseback with Godilla, Papa Dios and now his latest The Eff Word, he appeals to fans of hip-hop everywhere. With his smooth delivery and clever word-play I honestly can say there isn't a track that he has touched that I couldn't fuck with.
With each new album Eff continues to show growth and tenacity, constantly reinventing himself and surprising fans. With his latest effort The Eff Word I think he has clearly defined who he is as an artist. As Eff himself has said the album's concept is simple… it's a glimpse into the mind of him. It's an equal mix of intelligence, street, storytelling and straight up griminess. Exactly how I like it.
Eff Yoo is also is a member of one of my favorite squads around, Broken Home and an affiliate of Elite Squad and has many collaborations with the other members. Seriously this man never takes a break. He is steady putting out music which as a fan I appreciate. When he's not rhyming he's teaching life lessons and being extremely hilarious which can be seen in his web series "Don't Be a Piece of Shit Your Whole Life".
Eff Yoo is set to drop The Eff Word on April 21st and I had the opportunity to speak with him and his producer for the project Rediculus.
Scy: Ok Eff Yoo I have to ask something that I have wanted to know for a long time… where did the name come from?

Eff Yoo: It's kind of a long story, when I was younger, 18 or so, I would attend open Mics, just fucking around, kick freestyles or something I had previously written, nothing serious, but I didn't have a rap name, and I didn't wanna put go by my real name, so I would put different aliases that started with the letter E, just to hear the host say them out loud, like senator Edward Dukakis, or some dumb shit, at one open mic, I believe it was at nuyoricans, I put eff Yoo, spit some shit I had written, crowd went wild, the host, C-Rayz Walz came up after and chatted with me, asked about my name, and I told him, I didn't have one, and he told me I should stick with Eff Yoo, so I did.
Scy: Good story! I bet you have a ton of those. What was your pivotal moment in Hip Hop where you were just like wow this is what I want to do?
Eff: I don't remember the exact moment I said I wanted to make a run at trying to make some money off this, I think it was just a natural progression. I definitely took more seriously once I linked up with the homie Spit Gemz and Starvin B, Bob Goblin, Spent D'Nero, etc. at Goblin's studio, before that, I would fuck around on the mic, and spin records at parties, didn't really record till then.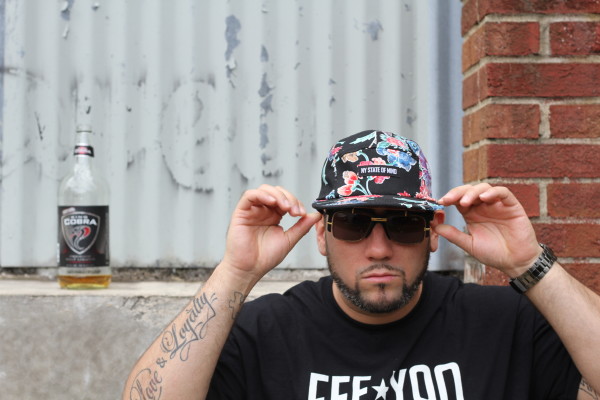 Scy: Well as a fan of Broken Home, I think you guys have one of the most solid crews out at the moment, I'm glad that the circumstances aligned the way they did! And Rediculus what got you into producing?
Rediculus: Many, many moons ago in the early 90's I lived with a buddy who was a bass player in a rock band in Southern California. I would always pick up his guitar and bang our horrible baselines when we smoked, and in the process I'm sure broke more than a few strings. Hip Hop at the time was starting to change and come commercial stuff really started to bother me, and I would always complain about the bad music and point out the good. One day he challenged me to make better music if I thought I could, and I went out on the spot and bought a drum machine and Ensoniq EPS 16+ (which I still have) and started learning.
I've always been interested in who writes and makes the music more so than who performs it so getting into producing and engineering was kind of a natural path. As a kid I played a few instruments so the foundation was definitely there.
Scy: What were your musical influences outside of hip-hop?
Eff: I listen to damn near everything, from salsa to 80's pop, metal, Jonny Cash, Radio Head, Hector Lavoe, Regina Spektor, as long as I can feel what they're saying, I can dig it, I play Theremin and classical pianos while smoking a cigar at my crib sometimes. You can catch me listening to a moonlight sonata puffing on a smooth Davidoff on a random night.
R: My mama would play anything, she grew up on a farm in Ohio so she played lots of Statler Brothers, we watched Hew Haw, but we also listened to Ella and Nina and Stevie. The 70s and 80s were a great time as what was considered popular music at the time really spanned a lot of specific genres. We had Billy Joel right next to Bon Jovi and Stevie. I listen to anything really now a day except opera, just not my thing though. I appreciate the extreme talent it takes to sing like that.
Scy: I feel that. I've always said as an artist you have to be open to other genres not just hip-hop. Eff, I've been a fan of your music for a really long time since way back when you released Legend Of The Gnome Sword. In fact, They Came On Horseback is still in heavy rotation. You've been steadily putting out material so how do you reinvent yourself with every new project?
Eff: Most of the times the idea comes from one song and I build a project around it. Gnome Sword was built off a joke, ran with it, Bodega Businessman started with that song, They Came on Horseback started with 1 collab song for Godilla that turned into a full album. The one I took my time and built was Papa Dios, that was kind of like a passion project, I didn't really expect it to sell, but even that idea started from when me and Gemz made Lust in Eden.
Scy: It's dope to get insight to your creative process. Speaking of which for this album you decided to work with exclusively with producer Rediculus. Did you find that it made it easier? Is there a more cohesive sound than working with a bunch of different producers? Did the production in any way influence the content of your songs? Tell us about what it was like working together.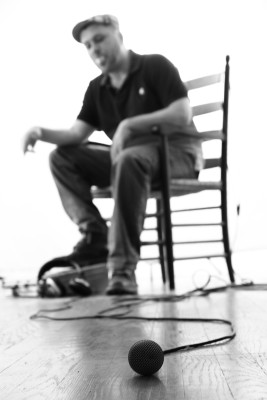 Eff: Definitely not easier, but the sound is much better, the vibe throughout the album is a lot smoother when working with one producer. Rediculus would send me beats and I wrote whatever came to mind when I heard it, sometimes it would be a reworking of a previous song, sometimes it was some fly shit, sometimes it was going in for the kill. It's difficult working with someone for a full album cause you're sharing your art, and I'm not used to that, but Rediculus is a cool dude and he's good at explaining what direction he wants to go in. I just have an idea and want it executed at all costs, no matter the route(hahaha)
R: For me I really wanted to expand Eff's sound and make something big and cinematic and really create the type of music that should accompany his style of rhyming. I think one of Eff's biggest strengths is that he's a great story teller and I really wanted to create dramatic sonic backdrops that would give him the foundation to tell some great stories and I definitely think we achieved that. Working with Eff was really seamless for me because he's also a perfectionist and he doesn't like to rush things and focuses on the end product being as dope as possible. When we decided to make this record we both said we wanted to pull songs out of each other that no one had before and I definitely feel like he pushed me to make beats better than ever before. We were also super open with each other about ideas and things do to in postproduction. There's a rock guitar part on Alpha Mega that the homie Rob Connelly played for us that was totally after the fact, and it is things that that which really bring out the life in the project, the small post details.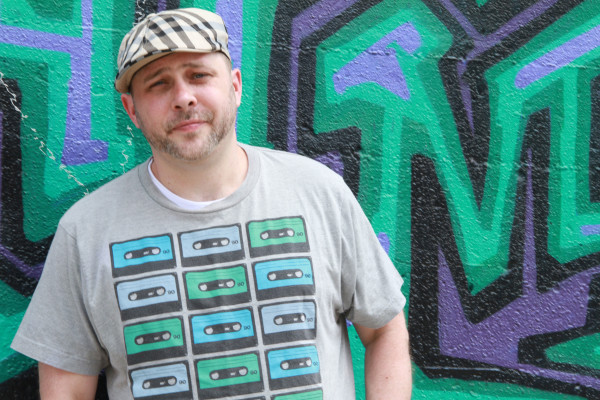 Scy: Rediculus is the pressure on when you have to produce for a complete album and ensuring that each track has a distinctive style or is it easier because you have a clear idea of what direction the artist wants to go in?
R: The pressure was definitely on for this album, but in general I like doing albums just one MC and one producer, from my standpoint it's a lot easier to create and much easier to have quality control over. I also mix all my work so Eff and I were able to really sit down and craft a whole sound over the course of the album that will take the listeners on a great journey. I'm a creative person so I like to be a part of the whole process, and I have a good ear for samples that fit a person's style and identity so I like to try to do as many things for that MC as I can sonically. My sample library is crazy deep so it's much easier for me to work with various sounds and tempos for a project and make it sonically interesting and moving and still keep a consistent theme musically.
Scy: Eff you are known for your concept albums, case in point Papa Dios. What message were you trying to relay with The Eff Word? Tell us about the album.
Eff: In my mind, The Eff Word, is just a reflection of me as a person, it's not personal, as in, I don't talk about my family or anything, but each song reflects my different moods and personalities, you got that smack your dad rap, that pimp shit, that intelligent speak, triple and quadruple entendre. So if anything, the concept is…me.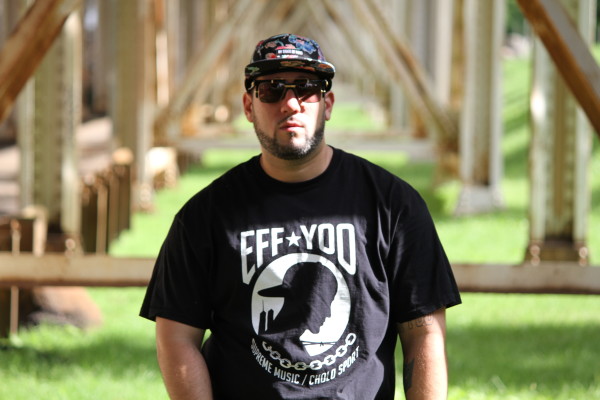 Scy: I can see that definitely. I had the honor of listening to the project prior to its release and I have to tell you I really enjoyed it. It's hard for me to choose but I would say favorite tracks was between God Hates Me or Chinese Super Ninjas, and Peach Marmalade. What was your favorite track on the album? Or can you pick a favorite?
Eff: It's hard to pick a favorite, but I'm particular to God Hates Me or Burgundy Boat-shoes, just that's real shit I'm talking about there.
Scy: Wait until you read my review! Burgandy Boat-shoes is a very visual song. I know you like to come up with the concepts for all your videos but I'm just saying… And Rediculus? I know it's hard but do you have a favorite track?
R: My favorite track is torn between God Hates Me and Peach Marmalade, that beat is so smooth to me and he just rode it perfectly.
Scy: So I see we are all on the same page. You both worked with a lot of really great artists already, Eff especially your Broken Home fam. Is there anyone in particular that you're hoping to work with in the future?
R: I recently submitted some production for Pharahoe's new project and sent some off to Talib recently as well. The big goal for 2016 is to get a Black Thought verse and hopefully submit some stuff for his solo project.
Scy: Nice! Keep us updated!
Eff: Slick rick, Roc Marci, Sean P (RIP) was supposed to be on this album, he passed before he got to record his verse, but it's out there somewhere, I'd like to read it, (ha-ha) Nore, Ghostface, some moves are in play, for the next album, some are not, so we'll see.
Scy: Man! I think that's an excellent list. I would love to see a Eff Yoo Roc Marci collab. I think your energies would mix nicely. Imagine a whole Eff Roc project. I would be hyped for that! That leads to my next question. What's next for you? What can we look forward to coming up after this?
R: We've got a great run of singles and videos for this album so you'll be seeing a lot of us all spring and summer. I've also got an EP and Album with John Reilly that is coming spring and late summer, a house music EP, 2 EP's with Frank Knight and my alt soul group RedAir and look for us to do a follow up in 2017.
Eff: Definitely might drop 5 track EP of reworked older material mixed with new shit over one producers to fill the void between this and an official full length album I already have in mind. But nothing's solid yet.
Scy: Do it! I still have some tracks in rotation from your previous projects but if someone was new to your music what three tracks would be a good starting point to get familiar?
Eff: Probably Wizards Cookbook, Fire Escape Life, God Hates Me, and I have some features out there I'd like ya to hear, (hahaha)
Scy: Well they have to cop The Eff Word to hear God Hates Me but I can help with the others and I'm even nice enough to throw in one of my favorites off of Papa Dios



Scy: I just want to thank you both for taking this time with us. Any last thoughts you want to leave our readers with?
R: I want to thank everyone for all the support, thank you for taking the time to speak with us today, thank Eff for a great album and remind everyone to download Platformz on iOS and Android to make your streaming searches easier!
Eff: Just thank you and thank everybody who's ever supported, I appreciate it greatly. Make sure to cop The Eff Word early, let's show these bigger companies what independent hip hop can do with a great fan base behind it