Tone Spliff – 7thBoro Interview With Godilla
Today Tone Spliff releases his brand new album, 'Ardore Melodico'. Our fam Godilla conducted an interview with Tone which talks about the project among other things. At the end you can check out the new visual from the album, "Recreational Rec", featuring Recognize Ali. Follow Tone on Twitter and Instagram.
I'm new to this interviewing thing, but the good people at 7thBoro gave me an opportunity to try my hand at this Q/A session. I got a chance to catch up with a producer who I always heard about, but never got the real opportunity to give a strong listen to. I always heard his name through some of my people who worked with him and knew he had a strong rep just by the names involved with his production credits. Unfortunately between being knee deep in my grind and the scene being flooded, he went under my radar. After studying his catalog and shooting the breeze with Tone Spliff, I got an appreciation for his approach and music. Read the interview and if you're a fan of that authentic, never dated boom bap, check him out. -Godilla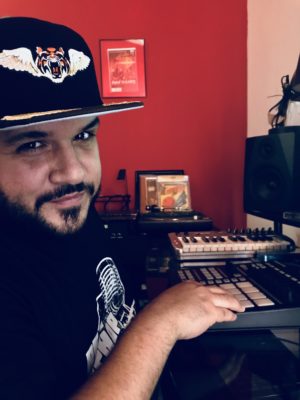 Q: After hearing your catalog, I hear a versatility that is second to none. How many years have you put in on the producing tip?
A: I started producing around 2001. At that time, I was also rapping with a group called C.I.C. (Chemically Imbalanced Crew). I started off using the MPC2000xl. So it's been about 17 years now making beats. A lot of my earlier stuff prior to 'Authentic' wasn't professionally mixed or mastered. Sound quality wise, my production went to another level in 2009 with my album, 'Authentic', with the mixing and mastering of my engineer Matt Wagner.
Q: You have an impressive resume in terms of collabs. How instrumental was the net in building your reputation?
A: Well, I was DJing way before the net. So I come from a time when building reputation meant DJs carrying crates of records to DJ at a club or backyard party. Way before Serato. I think I'm taking a lot of lines from my homie Bodyping's song, "Respect the DJ", right now haha, but we're both from that same era and think alike. I actually just remixed his song, it's on his Soundcloud right now. But, when the times changed and we all had to adapt to this change, the net played a great part with building my reputation further. I was able to post my music for people to hear everywhere. I was able to network and be able to work with artists I would never of dreamed of having the chance to work with coming from a small city like Utica, NY. The net helped me build relationships with some of these artists, gain listeners from all over the world and gave the little guy a big platform to promote his music.
Q: I can tell you're a fan of the music as well as an artist. The lineups you have don't necessarily have the most popular names, but they're heavy on respect. How important is respect in building a legacy in today's soundscape? Especially when the focus is on everything but craftsmanship in today's business?
A: I'll always be a fan first of hip-hop. I'll always have respect and appreciation to the artists I grew up listening to and the ones I had the honor of working with. To me, it's still extremely important to have this respect with today's soundscape. Without the respect and appreciation, we just have mindless trendy music that'll fade away and have no real longevity value.
Q: I love how you give the assist to up and coming MC's. What makes you reach out to an Irealz or Jukstapose and throw them on a song with a heavyweight? Do you look for anything besides an obvious skill set? Are there any MC's on the come up that caught your attention, but haven't had an opportunity to work with?
A: Realio Sparkzwell (formally Irealz) and myself are from the same area (Utica/Syracuse NY). We worked together on my first compilation called "All Jokes Aside" from 2007 (good luck finding that haha) on a song called "Snake Bite". The album featured artists from Myspace that were relatively lesser known, but I still thought were dope. Realio just stuck out to me. He had a unique flow and he appreciated the same type of hip-hop as me. It was only right to get him on songs featuring the late Sean Price (RIP), Big Noyd, El Da Sensei and Baby Blak. He was the one who arranged the song, "Understood Perfectly", though with Planet Asia on my album, 'Authentic'. They had recorded a song in Cali for one of Realio's projects, but it never got used I believe. So he sent me the acapella and I revised it and added some cuts.
I want to say I first linked with Jukstapose back in the Myspace days too. Juks was actually the one who arranged the song, "State Of Mind", on my album, 'Authentic', with Shabaam Sahdeeq and Chaundon. Then on my album, 'Work Ethics', I asked him to get on the song with Jojo Pellegrino and Agallah called, "Rules To The Game". Then between 'Work Ethics' and 'Pull No Punches', Juks hit me up for beats for a song he was doing with Tragedy Khadafi and Blaq Poet. They ended up using a beat of mine and made the song, "Rap Like". Later down the line, I took those acapellas and revised it to, "Spit Game", on my album, 'Pull No Punches'. Juks also had a rhyme style that stuck out to anything I heard and he was always a good dude. Juks if you're reading this, get at me!
There are a few new artists that I want to work with and will be working with on my new album. Some of them include Ill Conscious, Recognize Ali, Daniel Son, Zagnif Nori and Tha God Fahim. Others that I have yet to work with would be Crimeapple, Vic Spencer, Nowaah The Flood, Bub Styles, A.F.R.O. and Marlon Craft to name a few.
Q: You're a producer from a relatively unknown area in terms of music. How important were your hometown roots in creating your sound? I see you're residing in Cali now. What prompted the drastic change in scenery?
A: Good ol' Utica NY. We do have the best food though (Chicken Riggies, Utica Greens and Halfmoons to be specific) haha. A lot of local DJs inspired me to start DJing from that area. DJ Joe Dro, DJ Buck, City Kid and many more. But it was the turntablists on the DMC/ITF VHS tapes and the mixtape DJs that really gave me the big push with getting into turntablism and scratching.
My main inspiration for local producers would be King Benny. We used to work on beats in his basement back in the day and we're still close friends. He was close with Prodigy (RIP) and had a few songs with him. "Stronger", is one of them from the Bumpy Johnson EP. Prodigy even mentions King Benny in his cookbook he released before his passing. I had the chance to meet Prodigy in LA and mentioned I'm from Utica and knew King Benny. Prodigy showed nothing but love after I mentioned that. I still pay respect to the local DJs and producers from Utica. However it's a big struggle coming from there. As far as the move to Cali, it was either New York City or LA. I decided to move to Cali just to get as far away from what I was accustomed to. I needed a change in life. I needed to not shovel snow anymore lol. I been to New York City a lot living 4 hours from there. After visiting LA in 2007 for the first time on the Weatherproof Tour with Vast Aire and Copywrite, it was always on my mind to move to the west coast. Also, I always was a fan of west coast hip-hop (NWA, Tha Liks, Lootpack, Planet Asia, Ras Kass etc), so I knew there was no lack of dope hip-hop out there.
Q: You have been actively putting music out for some time now. Sales haven't been the best for up and coming artists. What are you doing to spread the word on your music and rack up a sale or two?
A: First, salute to all the DJs who play my music. The DJs play a huge part of bringing awareness to some artists who don't have a major platform to get their music heard. Also salute to all the blogs and websites that post dope music (7thBoro being one of them of course). Other than that, I boost posts on Instagram, Twitter and Facebook occasionally. Email everyone who provided their email on my Bandcamp page with new release info etc. Good music doesn't have an expiration date. If I find an album from 2007 that I slept on, it would still be new music to me since I would of never heard it. So to me, it's ok if people have never heard of me, as long as they do now and go back to check my past work.
Q: You just recently dropped 'Tape Deck Music' with Young Lo. The album has a relatable, authentic quality that seems to be missing from today's scene. How did this album come about and what was your approach to the MC and the beats selected?
A: Young Lo (formally Emilio Lopez) and I go back to 2010/2011 when he got on the song, "Can't Relate", on my 'Work Ethics' album. I also did some cuts on a joint for his project as well. I hit him recently to get on a song for the Hip Hop Stacks compilation I'm helping oversee. Once we did that (and the song came out dope), we decided to do an EP. I've been wanting to do EPs and work with one main artist, instead of the normal compilations, for some time. For beat selections, I'll usually just send a few beats at a time to an artist. So I'd send him 3-4, he'd pick maybe 1-2 and then ask for more. We did that till we had 5 solid selections.
Q: I was lucky enough to get a preview of your upcoming project. The title caught my attention. Explain the title to me and walk me through the creative process for this project.
A: 'Ardore Melodico', Ardore (Ardor in English) means passion or as a synonym means fire. Melodico (Melodic in English) means producing melody. So in a sense I'm producing fire melodies with the artists I have on the album. I feel all the artists I work with are extremely passionate as well with their artistry. I feel a lot of these mainstream rappers lack this passion. I wanted to do this project in dedication of my Italian heritage. To pay respects to my grandparents who raised me. Other than the artwork and the album's intro being spoken in Italian, the rest of the project is all 100% boom bap hip-hop.
Q: I personally found a lot of songs in your catalog that I rock with. "Understood Perfectly", "State Of Mind" and "A-Z" are some of my favorites. What are your favorite songs in your catalog?
A: My favorite song in my catalog…man, that's tough for me. This answer can change on a hourly basis, but right now….I'm rolling with "Heartfelt" by Braille on my 'Authentic' album. I really like a song with meaning and I got some really inspiring messages from people who heard that song.
We're gonna end this interview with a focus on the future. Give me details on your latest project's release date and tell me what else you got in the chamber.
'Ardore Melodico' I'm releasing on CD first only (no streaming at all….anywhere, if anyone wants to hear this album, they will have to buy the CD). The CD will be $25 and will come with a free Limited Mind Write Music microphone logo pin, Italian themed. The first video is, "Sun Dial", by Realio Sparkzwell which is out now on my YouTube page. Followed by an insane animation video for, "Recreational Rec", by Recognize Ali (see below). I'd love to do a vinyl release, but pressing vinyl is expensive and it would cost even more since it would be a 2x LP with 19 songs. So unless a label wants to pick it up, it may not see a vinyl release unless I hit the damn lotto lol. I'm also fully producing an album with Solomon Childs. We've been releasing a few songs here and there, but we have some fire in the stash. We're wrapping up one last song right now with Conway. That's all I'll say about that. I may do an instrumental project sometime in the near future and I also intend on doing a 10 year anniversary re-issue of my first major album, 'Authentic', with new artwork and instrumentals. This most likely won't happen until 2019 though. I'll have 3 or 4 songs on the Hip Hop Stacks Compilation. No release date for that yet. I also produced a few joints on Recognize Ali's, 'I.S.L.A.M.' album coming later this year. Also did some cuts for some dope artists as well.