Skammadix – 7th Boro Interview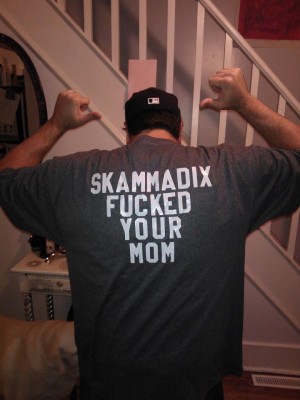 Skammadix is a producer. He also lives in Canada. He makes really good beats, so we forgive him for the 2nd part. He's worked with some of your favorite rappers & continues to build on an already impressive resume. He also wears t-shirts with wolves on them.
Spek27: For those that might be unfamiliar, give us a brief rundown of your production resume.
Skammadix: I've worked with basically all of AOTP, The Demigodz, Nature, Matt Maddox, Tragedy Khadafi, Diabolic, Sabac Red, Q-Unique, MF Grimm, Sam Scarfo, Evil Intentions, Masstapeace, Krumbsnatcha, M-Dot, Wordsworth, Rah Digga, Mr. Beatz, Homeboy Sandman, Mac Lethal, Chill Rob G, Little Vic, and a bunch of others that I'm probably forgetting.
Spek27: How do you decide what artists you want to work with?
Skammadix: Generally, when I make a beat, I can hear a certain MC on it. I've been lucky enough to make connections with some of the best in the game, so when I make something that I think fits, I send it directly to them. If someone I've never heard of contacts me for beats, I'll listen to their music before I make a decision on whether I'm going to work with them or not. I take pride in what I do, so I'm not about to work with everyone that contacts me. I keep a tight reign on my music.
Spek27: What equipment are you currently using?
Skammadix: Reason, ReCycle, Adobe Audition, M-Audio 02, and lots of vinyl that I ripped to and external hard drive. I used to rock a Roland MV-8800, but I left it back in NY.
Spek27: What projects are you currently working on?
Skammadix: A bunch. The follow up to Collective Bargaining with King Syze called Union Terminology is done. I'm working closely with Q-Unique on the follow up record to Between Heaven and Hell. I also have a couple of beats on the forthcoming Arsonists record. Shouts to Q for sure. The Arsonists were a big reason I got back into Hip-Hop and working with him has been inspirational. I have a couple of beats going on the new Outerspace record Lost in Space, from what I understand a couple going on the new Heavy Metal Kings record, a beat on Diabolic's Fightin' Words, an EP with INF of The Day Laborers, an EP with Mina Fedora, an EP with Matt Maddox, some more work with Nature, some more work with Chill Rob G, and a bunch of other random things that I can't really talk about until I hear at least one joint recorded.
Spek27: How would you describe your sound?
Skammadix: I don't know if I really have a sound to be honest. I've been told that I can make a beat for anyone. I like that. I don't want to be pigeonholed as a producer like "Oh he can only make hard shit." or "He can only make soul beats." I sample literally every genre of music so I guess, if anything, my sound would be universal.
Spek27: For those that never heard of you, why should someone buy one of your projects?
Skammadix: Because they're dope. Plain and simple. Plus they have a lot of variety. My beats are pretty much all over the place but I put a lot of time and effort into each one and they all have soul and feeling to them. It's not generic bullshit and it's not monotonous or repetitive. So anything you'll hear me on, especially a project that I've done the bulk of the production on, will have a cohesive sound, yet a ton of variety if that makes any sense.
Spek27: So, how boring is Canada?
Skammadix: How can you be bored fighting off yetis, riding a dogsled around town, making your own bacon, and drinking alcohol on a daily basis with the excuse of "I'm doing it to stay warm."?
Spek27: How did you get your start in production?
Skammadix: I played in bands for a long time. It got annoying having to deal with people who thought they were worth more than the unit as a whole. So I started dicking around with an Alesis drum machine, a guitar, and a Tascam 4-Track. This was my first foray into sequencing things. Fast forward a bunch of years and I got a Roland MV-8800, a ton of vinyl, and started making hip-hop beats. The first major placement I got was on MF Grimm's American Hunger. That's when I realized that I could actually make something of myself in hip-hop.
Spek27: What's next for Skammadix?
Skammadix: Honestly, I have no idea. As long as the opportunities keep coming my way, I'll continue to take advantage of them. I'd like to expand out of hip hop. The project I'm working on with Mina is the first step in that direction. Don't get me wrong, I'll always be making beats and appearing on hip hop records, but I think there's more to it than just that.
Spek27: How awesome am I?
Skammadix: On a scale of 1-10, an 11. Who else would take me to a strip club, introduce me to the inventor of snowboarding, and there be an impromptu Blackstreet concert all in the same night in the same place? Dorney Park, Peppermints, Snowboarding, Gangsta Rap, Strippers, and Blackstreet. ALL. IN. THE. SPAN. OF. A. FEW. HOURS.
Spek27: Last words?
Skammadix: Cop that King Syze project "Union Terminology" when it drops and keep your eyes open for everything else I'm working on. I promise you won't be disappointed.