Rich Quick – 7thBoro Interview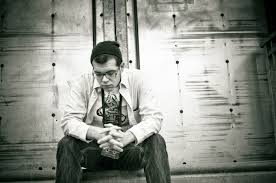 A few months ago, Rich Quick dropped Searching For Tupac Shakur, a video that details a brief time line of the late rapper's life. Although Rich might list 2pac as one of his biggest influences, a comparison of the two might seem like night and day to most people that have followed his current work. However, the one noticeable likeness between these artists would be the devotion to their craft. While his presence has recently been growing, Rich has been on his grind for several years now. Originally from New Jersey, he's built a solid fan base in nearby Philadelphia. As I write this, Rich is finishing up his first tour overseas. With an EP already out and an album coming soon, Rich continues to put in work and remains dedicated to his art.
Spek27: Start off by letting everyone know who you are & what you do.
Rich Quick: My name is Rich Quick and I'm a South Jersey mc. I've spent the last decade of my life establishing myself in the Philadelphia hip hop scene and around the world. I'm true to the culture and to myself.
Spek27: You've been getting a lot of attention lately from your "Searching For Tupac Shakur" video. Did you expect that so many people would take notice?
Rich Quick: I had been working on that piece for several years. I always knew it was special. I wanted it to be perfect and I'm really pleased with how it turned out. I knew all of the true 2Pac fans would appreciate it, but the response that it had gotten was more than I could have ever wanted. It received praise and attention from Treach from Naughty By Nature, Tek from Smif N Wessun, Leila Steinberg and Mopreme Shakur, to name a few. All of those folks were close friends to Tupac. Knowing that I had their blessing was extremely humbling.
Spek27: What made you decide to make a video like this? Was it just from being a fan?
Rich Quick: With 2Pac fans, our love for him goes much further beyond the music. This man lead an extraordinary life. The things he went through and was able to accomplish are very much unparalleled. I wanted to tell his story, in full detail, but still manage to stray away from the things I felt were "less important", but receive much scrutiny. Such as his feuds with the east coast scene, as well as the conspiracy theories surrounding his death. These things were a part of his story undoubtedly, but I felt the fact still remained that he was a great talent who died very young. I wanted that point to be clear with the piece I had written.
Spek27: We all know hip hop fans hold 2pac in very high regards. A lot of them are this special breed of "superfans". Were you nervous at all about being judged by the 2pac fanatics?
Rich Quick: Absolutely not. I've spent my whole life learning about Tupac Shakur. He has been a part of almost my entire existence. I AM one of those fans! And I thought the passion I put into the piece would be clear to those who loved him. And I think that has also proven true, not only to 2Pac fanatics…but also to the people who actually knew him well. I'm very grateful for the response it has gotten across the board.
Spek27: We're approaching the middle of the summer. It's starting to get really hot & humid outside. Are you wearing a wool hat right now?
Rich Quick: Absolutely! Are your kidding? You must be kidding. Not a day passes by I don't wear this skully! People ask me if I'm "hot with that thing on". The answer is yes! It's 100 damn degrees and I'm wearing a winter hat! Of course I'm hot. But I like it…
Spek27: Why 2pac? Why not Biggie or ODB or Jam Master Jay or Eazy E, etc.?
Rich Quick: I love all of those guys. They were great artists…and I feel as though their story deserves to be told also. But, from my perspective, Tupac Amauru Shakur was the voice of an entire generation of people. He dedicated his whole life to his legacy and we owe it to him to honor that. He was SO MANY things…an activist, an artist, a poet, an actor, a revolutionary. Tupac was a special person. I felt the need to really convey that to my audience. And I think the response I've gotten from people who admittedly are not fans of his work is what was most important to me. But to Tupac and his true fans, "my plan was to show them that I understand" and that "they are appreciated".
Spek27: A lot of fans argue about what the state of hip hop would be like if 2pac or Biggie were still alive. Any opinions on that?
Rich Quick: Ugh…. Sadly, I feel that 2Pac and B.I.G are more appreciated posthumously than they would have ever been alive. Having a career in hip hop music, I see artists I once held in such high regards fall from their pedestal. In a way, it's bitter-sweet. I almost feel that I'm more thankful that these souls were taken from us, because we have had the chance to truly appreciate their artistry. We watched them grow…and although they stumbled, we never watched them fall from their graces. I think in a way, I'm thankful for that.
Spek27: Are you currently working on anything else right now?
Rich Quick: I have an album that I'm releasing in the next few months featuring Chris Rivers, Skrewtape and Miilkbone. I have production from the SnowGoons, STRESS the Whiteboy and much more. As well as headlining my first European tour! I'm excited for what the future holds, to say the least.
Spek27: Where can people go to check out more of your work?
Rich Quick: You can always log on to www.RichMFNQuick.com and follow me at @RichMFNQuick on all of your favorite social networks. There is a ton of content, past and present, available.
Spek27: Last words?
Rich Quick: "Reality is wrong. Dreams are for real." -Tupac Shakur