Jus-P & Innocent? – Tried By 12 (EP Breakdown)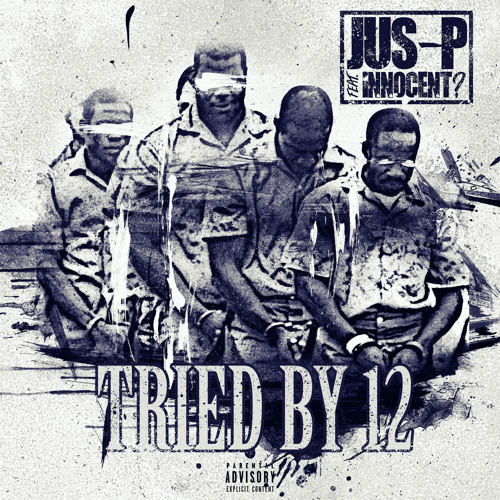 Jus-P with the assistance of Innocent? has recently released a really dope EP titled, 'Tried By 12', on Thrice Great Records. I've heard the project quite a while ago and it's fresh! So what Jus has done is write up a breakdown of the tracks and his thought process in the creation of the project that we would like to share with you. We'll start with the an introduction and then a track breakdown and at the end you'll be able to sample the tracks. Let's Go!!
Introduction) This album is a collaboration between myself and Brooklyn MC Innocent?. The album is titled, 'Tried By 12', which comes from the phrase "I'd rather be tried by 12 than carried by 6". That's the attitude of a lot of the youth today. The world is a crazy place. Global pandemic. Poverty and racism at an all time high. The gang wars in Brooklyn and Chicago. People today would rather carry a gun and risk going to prison, then to be caught by their enemies without one. This album is an expression of those feelings and experiences.

1) Intro. Produced by GS Advance. This is just setting the stage and vibe for the album. The voice sample is Tupac talking about when he get his money he still gonna act black, pack a gun get high and drunk because that's we do. This is reflecting the mindsets of many.

2) Fast Lane Chronicles ft Baritone Bros. Produced by GS Advance. The song starts off with a group of kids talking to a reporter about why they carry guns. Our verses are about different effects of living the fast street life.

3) My Name Is. Produced by Stan Da Man. Innocent? is a brother from Brooklyn I met years ago. We run in a lot of the same underground circles. Super cool guy very talented MC. This joint is him going crazy breaking down the science of his name letting people who he is.

4) Need True Interlude. Produced by GS Advance. GS Advance is one of the best producers on the planet. This is the transitional point in the album, but it's also taking the opportunity to showcase the gift of production that is he has.

5) The Definition ft LEX. Produced by SC Productions. This right here is straight classic Jus-P Shadow Clan shit. This is getting Innocent? and the homie LEX in on that sound . This is us saying there's a lot of people claiming to be this and that, but when it comes to this Hip-Hop we really them niggas.

6) Tales From The Badlands. Produced by Spence Boogie. This is one of my favorite songs for a few reasons. At the time I recorded my verse my life was crazy. This is before I went to prison. I was having a recording session at my house with The Baritone Bros. The thing is I was also letting a friend of mine stash this random chick at my house and all she wanted to do was sniff coke. So I had all that going on at the time of making this song. This song is also interesting for the way it has kinda two different perspectives from the underworld. My verse as someone currently in underworld situations and Innocent? comes in as someone navigating and avoiding the traps and pitfalls of the streets through knowledge and experience. Both giving extraordinary accounts of Tales From The Badlands

7) All Natural. Produced by GS Advance. The story of this song is also very interesting. I was working with Killa Kali from Gold Chain Military on an album awhile back. I recorded my parts to two Dirty Diggs joints and this one. I sent them to him to work on. I end up going to prison for two years a little while after. In that time I'm away Kali starts to put together The Poison Ring Regime compilation. This song is on it. Kali never getting around to doing his part to the song and me not being in contact this song ends up on the compilation and mislabeled produced by Dirty Diggs. I felt this song needed the proper and correct shine. It's a crazy a super fire solo song of me getting busy. I had to give it it's proper due.

8) Outro. Produced by GS Advance. This album is as much a GS Advance project as it ours. His production was crazy and also with helping the over all direction of the album. As we all know he is also a rhyme assassin so we had to get him going crazy in the booth.